Avoid These 5 Common Forklift Operating Mistakes
January 30, 2020 | Blog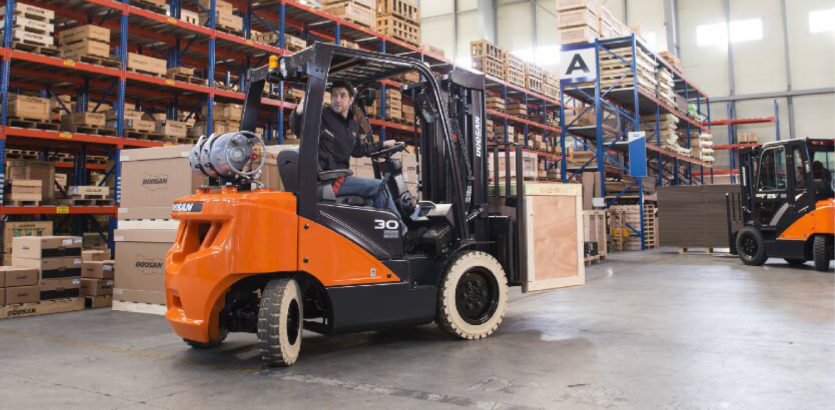 With over 34 years of training experience in the industry, and more than 60,000 individuals certified through our forklift operator training courses, we've seen our fair share of  operating mistakes. Here are 5 of the most common mistakes people make when operating their forklifts and tips on how to avoid them.
Forks lifted too far off the ground during travel (with or without a load).

Before you move, ensure your forks are either low to the ground or on the ground to prevent injury to those around you, or damage to your surrounding area.
Forgetting to secure your forklift with the parking brake.

Always remember to turn your machine off fully and engage the parking brake before dismounting your forklift to ensures your machine doesn't roll off after exiting.
Not performing pre-trip inspection.

Performing a pre-trip inspection means that you're prepared for any issues your forklift may experience prior to operation. Fill out a pre-trip inspection checklist prior to operation to ensure your machine is in top working condition.
Not looking back when reversing.

When operating a forklift, make sure you maintain a clear line of sight in the direction you're travelling to avoid reversing into something, or someone.
Forgetting to wear a seat belt.

Fastening your seat belt before operation is as important in cars as it is in forklifts. In the event of a machine tip over, not wearing a seat belt could cause serious injury or fatality if you are pinned underneath your forklift.
Are you guilty of committing these common forklift operating mistakes? Our Forklift Operator Training courses are designed for both beginners and experienced forklift operators. We offer a comprehensive hands-on experience in our classrooms to get you familiar with the equipment you're working with, and how to operate it safely.