Benefits of Doosan Forklifts on the Farm
January 21, 2021 | Blog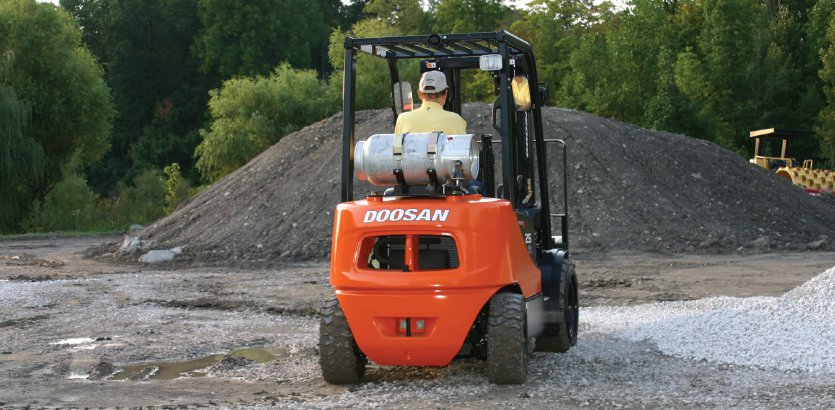 Do More with Doosan - How A Doosan Forklift Can Help You
No matter what type of farm you operate, a Doosan Forklift helps the agriculture industry achieve higher efficiency in countless ways. Here we introduce three major benefits of utilizing a forklift on your farm and/or jobsite.
1. Automate heavy lifting
With the help of a Doosan Forklift, you can minimize labour and maximize transport loads. Easily move heavy bales of hay and bags of seed across your site. This machine improves workplace safety by reducing the potential for physical injuries to workers. Doosan's powerful and reliable forklift trucks promises great performance independent of environment conditions. They are built and tested to withstand high levels of stress across all rough and uneven ground conditions.
2. Maximize use of all warehouse space
Access hard to reach areas and utilize all storage space in your jobsite. Easily move palletized inventory at half the time and keep your floor space clean with stacked goods. Once again mitigating workplace injuries, a forklift eliminates the risk of ladders and keeps pathways clear. Specifically designed for potato and root crops, Doosan's 3.5 tonne D35C-7 enables you to stack two more regular potato boxes on the standard six.
3. Improved working conditions
Specialized for the agricultural industry, Doosan Lift offers a truck built with a large radiator and pre-air cleaner – perfect for clearing dusty environments. Alternatively, opt in for a full cabin design which is optimal for tackling outdoor jobs. For inside processing facilities, choosing a gas-powered truck removes the presence of soot while delivering the power of a diesel machine. Electric forklifts can also substitute in for a cost-effective option given its recharging power versus constant refueling.
---
Contact one of our Sales Representatives today to learn more about our great range of Doosan Forklifts.