Delivery of First Konecranes Empty Container Handler
February 2, 2016 | Equipment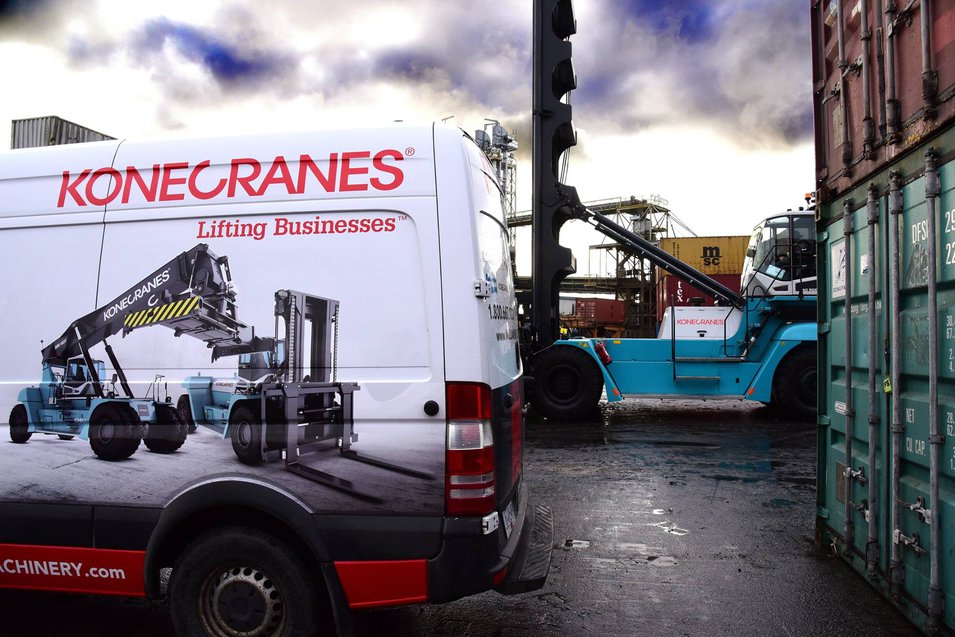 On Wednesday, January 13th, Williams Machinery delivered our first Konecranes ECC 90 7/8 empty container handler to Ray-Mont Logistics! The service team did a tremendous job and had the unit assembled in 4 hours with the help of their new Konecranes‬ outfitted service truck.
Konecranes empty container lift trucks are available in an array of models to match every empty handling requirement.  The 8-10 ton empty container handlers sense the load and adapt the lifting power to the weight of the load.  They can lift 8 containers high thanks to the wide mast.  Hoses and cables are kept to a minimum to reduce maintenance costs and maximize uptime.  Smart lift trucks with heart, these lift trucks provide maximum power only when necessary; thus, reducing fuel consumption.
Find your forklift truck. Whatever the lifting capacity you need, 10-18 tons, 18-33 tons or 37-65 tons, Konecranes has the right lift truck for you with the right package of options and attachments. Konecranes forklift trucks are remarkably adaptable to specialized material handling. We have a long track record of fulfilling specialized industrial handling requirements like yours, and it is made with heart: with the new applicable technologies, fine craftsmanship and attention to detail.  As BC's Preferred Equipment Dealer, we have a lift truck equipment and service solution for you.
Contact us today to book a Konecranes demo.