Williams Machinery gives back through the Pink Forklift Program
November 30, 2016 | News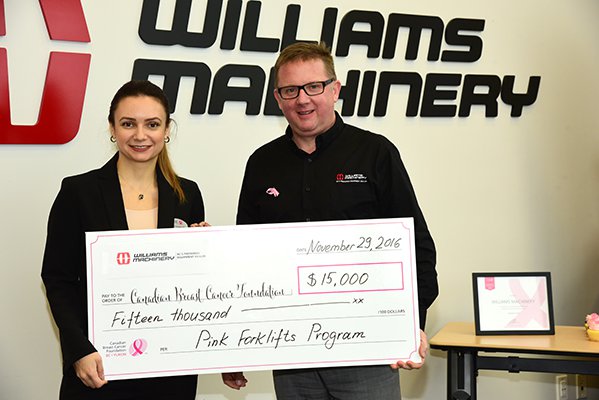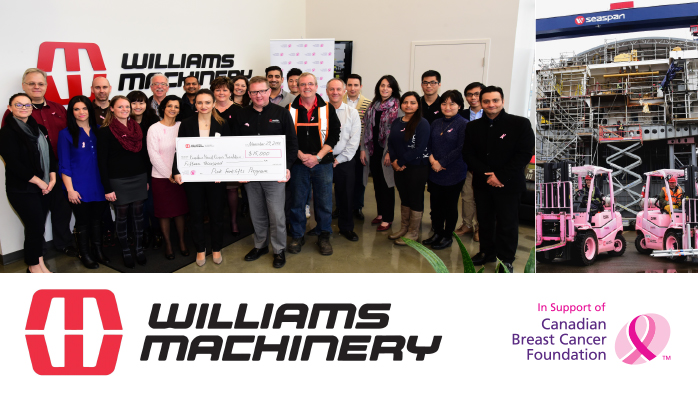 Williams Machinery celebrated the inaugural year of its Pink Forklift Program with a $15,000 donation to the Canadian Breast Cancer Foundation (CBCF) on Tuesday, November 29th.
In 2016, Williams Machinery partnered with the CBCF to support the foundation's effort through the Pink Forklift Program. The company has added two pink CLARK forklifts to its rental fleet in Surrey and 100% of the operating profits from these machines will be donated to the CBCF. David Lavigne, Sales Manager at Williams Machinery in Surrey was on hand to present the cheque to CBCF.
"This program gives us an opportunity to work with our employees, our customers and the community to support the CBCF in their efforts to advance vital research, education, health promotion, support and information programs," commented David.
The program not only raises funds to support the CBCF, it raises awareness as well. You can't deny that these pink forklifts are making a statement out on work sites. Partnering with customers through the rental program increases visibility for the CBCF and allows an opportunity for healthy dialogue about risk and prevention. The pink forklifts are currently out on rental with Seaspan's Vancouver Shipyards.
"We are proud to be partnering with the Canadian Breast Cancer Foundation. The Pink Forklift Program provides an opportunity for our industry to support so many of our loved ones affected by this disease," said Dhar Dhaliwal, CEO of Wesgroup Equipment, parent company of Williams Machinery.
"We're so pleased to partner with Williams Machinery and Wesgroup Equipment on the Pink Forklift Program. Every day an estimated 68 Canadian women are diagnosed with breast cancer – that's over 25,000 women a year. Thanks to innovative partnerships like this we are able invest in vital breast cancer research, education and patient support & information programs" said Bernice Scholten, Executive Director, Western Canada, Canadian Breast Cancer Foundation.
About Williams Machinery Williams Machinery is BC's Preferred Equipment Dealer with strong Canadian roots. We take pride in being the chosen British Columbia dealer for premium equipment brands such as Linde, Clark, Doosan, Bobcat, Konecranes, Ammann and Vermeer. Williams Machinery is part of Wesgroup Equipment the parent company of a family of equipment dealers that also includes Westerra Equipment and Vermeer BC.
About the Canadian Breast Cancer Foundation
The Canadian Breast Cancer Foundation (CBCF) is a national community-driven charity. As the largest charitable funder of breast cancer research in Canada, CBCF's vision is to create a future without breast cancer. Since its inception in 1986, the Foundation has invested over $360 million in breast cancer research, funding more than 1,400 scientific and community grants. CBCF's investments in vital research, education, health promotion, support and information programs have led to progress in breast cancer prevention, diagnosis, treatment and care. For more information, visit cbcf.org.
Media Contact:
Kathy Fowler, Marketing & Communications Manager 604.930.8819 / kfowler@wesgroupequipment.com