Williams Machinery Technicians – A Father & Son Duo
June 17, 2021 | Blog
This Father's Day, we are excited to feature two of our very talented service technicians.
In addition to being part of Williams Machinery's family, Rodney and Cameron Odendaal share an unbreakable bond as father and son. "He's an extremely hard worker, and he's dedicated his life to doing the best he can to give his family the best they can have. If it weren't for him, we wouldn't be here, and I would not have this opportunity." said Cameron.
In 2019, Rodney decided to immigrate his family to Canada from South Africa. Having worked with Williams Machinery previously, he reached out to us in search of open positions. Our team was excited to hear from Rodney again, and thrilled to learn that his son, Cameron, was also practicing as a service technician. Both hired in 2019, their family immigrated to Canada earlier this year to join our Surrey service team. They have since become integral to our operations and constantly help us deliver great results to our customers.
We sat down with Cameron to hear his story and what it is like to work with your dad.
What inspired you to become a service technician?
"I'm quite artistic, so I wanted to be a graphic designer. I was supposed to go to graphic design school, but my dad preferred if I qualified as a mechanic [first]. Then afterwards, if I still wanted, I could be a graphic designer."
"After a year or two of working as a mechanic, he asked me if I still wanted to become a graphic designer. I looked into it and got really bored. Just having to sit in front of a computer all day is not something I can do. The work we do is more exciting. I'm thankful that he knew what I needed and what I wanted before I knew myself."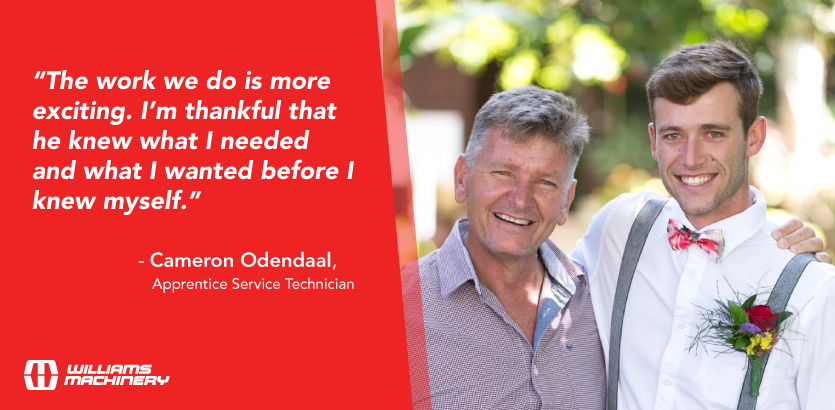 What is the best thing about working with your dad?
"It's nice because there is a familiar face, and you can joke around. And if you're stuck on something you can go ask him. I trust his opinion."
What is your proudest memory while working at Williams Machinery?
"One day I had to replace a whole wiring harness on a machine, and I've never done that before. It was a new challenge. I thought it was going to be extremely hard, but the knowledge I had of working on the machines for so many years kicked in. So, even though I thought it was going to be a challenge, it was quite simple, and I was very excited I was able to do it!"
What is your favourite memory with your dad?
"The thing we are most excited to do together outside of work is race off-road motor bikes. In South Africa, every single weekend we would go to the track and ride together. We were chosen by the South African team to race. One of my favorite memories was to travel the country and race with him.
He's been riding bikes for a lot longer than me, but when I was growing up, I took onto it as well. It became a passion for both of us. I have a little son now and I hope he is the same way. I hope he also has a passion for riding motor bikes."
A huge shout out to Cameron and Rodney Odendaal for all the great work they do with Williams Machinery, and a special thanks to Cameron for chatting with us for this Father's Day article.
---
At Williams Machinery, keeping your equipment running is our priority. Our service technicians are all Red Seal certified and factory trained to reliably diagnose and repair your equipment. From emergency repairs to preventative maintenance, our team of experts is ready to help.
Are you interested in joining our team?
Williams Machinery is the perfect place to apply your talent, learn, grow and be a part of an amazingly committed team. If you're passionate, flexible, creative, and care deeply about providing outstanding customer service, we want to talk to you. We offer hard working individuals with integrity and G.R.I.T. as well as the opportunity to contribute to making a difference.
View our current job openings, and join an award winning company.