Electric Forklift Maintenance Tips for Higher Productivity
June 28, 2022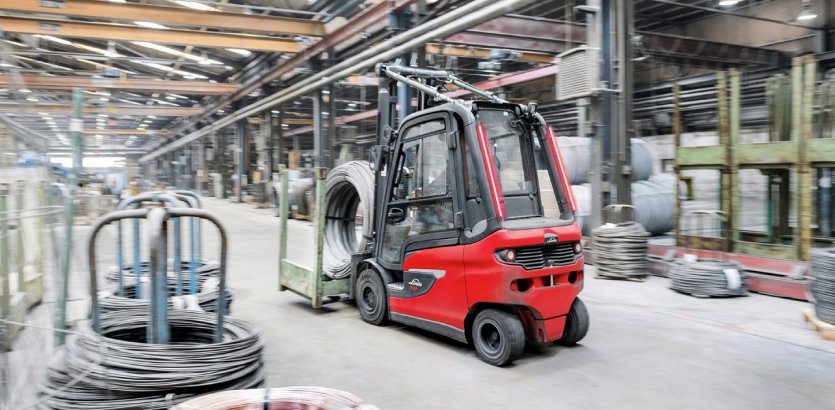 Prioritizing regular maintenance of your electric forklift can extend your equipment's life and ensure the safety of your operators. Electric forklifts, in general, require much less maintenance compared to propane or diesel forklifts. This is one of the main reasons for the rising popularity of electric forklifts as reduced maintenance translates into saved time and money. That said, electric forklifts require regular maintenance, especially their batteries, in order to keep them in peak working condition.
In this article, our experts share some quick tips for maintaining your electric forklift in optimal condition.
1. Forklift Battery
The electric forklift battery is one of the most important components of an electric forklift. A well-maintained battery not only increases its lifespan but also helps you improve the overall productivity of the forklift, reduce safety hazards, and impact the bottom line. The amount of maintenance that you need to perform depends on whether your forklift is powered by a lead-acid battery or a lithium-ion battery.
Lead-acid batteries need more maintenance as compared to lithium-ion batteries. The most important aspect of maintaining a lead-acid battery is watering. Lead-acid batteries lose water from the electrolyte when used, so topping up the water at regular intervals is essential to maintain the level of water. You should check the level of water at least once per week. Batteries should be watered after they have been charged and not before. Make sure that your personnel are properly trained to perform battery watering to avoid any safety hazards.
Lithium-ion batteries use a different chemistry to produce power and hence do not need watering. Apart from watering, batteries should be cleaned of any dust regularly.
2. Motor Cables
Every forklift has several cables that carry electricity from the battery to the motor. Throughout the forklift operation and charging process, these cables can become loose. This loosening of cables can interrupt the current flow and cause the forklift to break down. In the worst-case scenario, loose cables can permanently damage the equipment and cause a fire.
It is highly recommended to regularly check the cables and tighten the connections if needed. This can go a long way in ensuring the smooth functioning of your operations.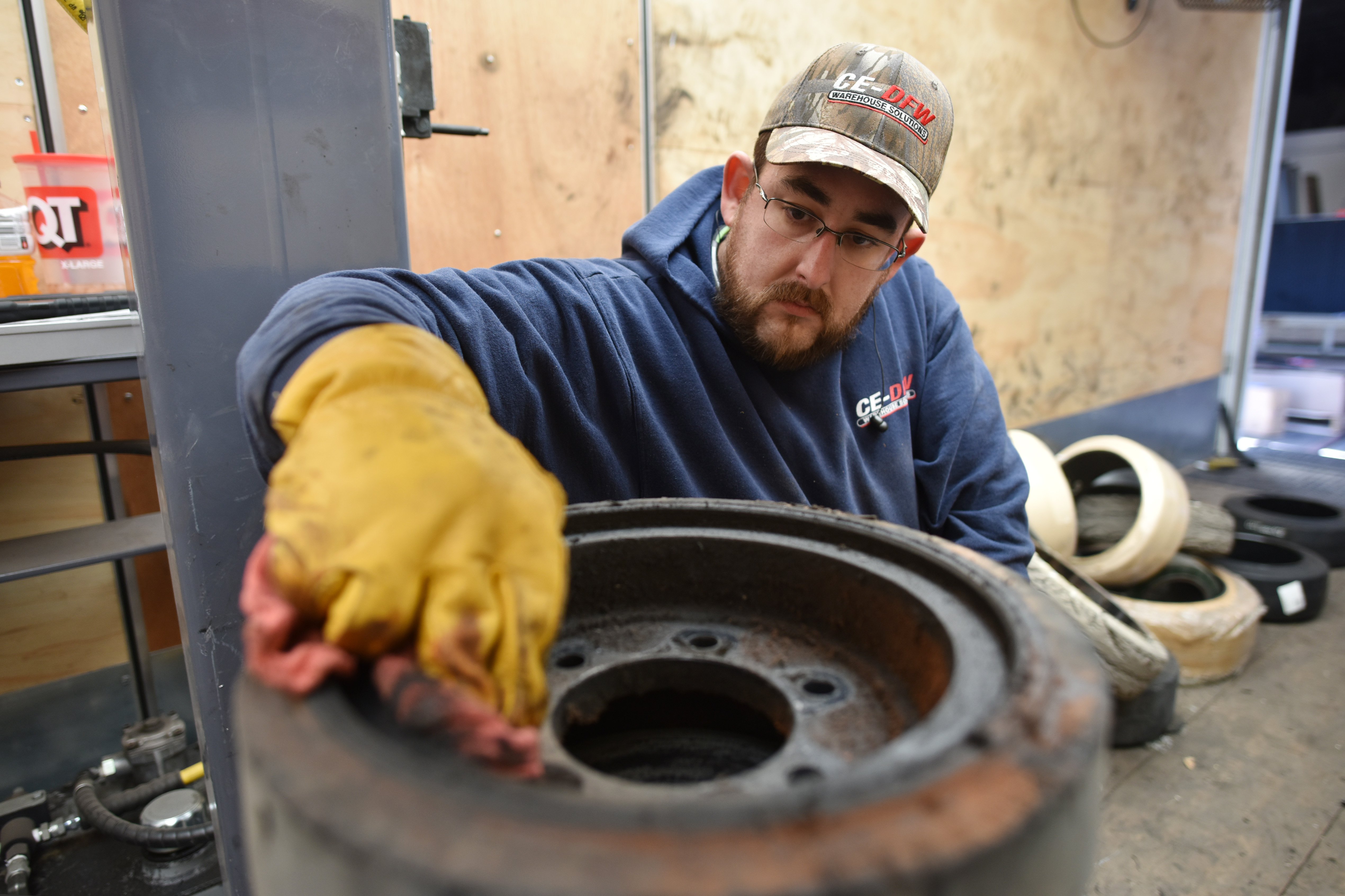 3. Mechanical Moving Parts
Just like any other equipment, moving parts in an electric forklift undergo wear and tear. You should regularly inspect these parts and repair them if needed. The most common parts that you need to watch out for include tires, forks, mast, brakes, hydraulic hoses, and any other attachments. Regularly grease and oil these parts to maximize safety and productivity.
4. Dust Removal
Blowing out dust and debris off your electric forklift is a crucial maintenance procedure. Our experts warn that accumulated dust can cause a lot of damage to the equipment, especially to the electronic parts. Dust creates a layer of insulation which in turn allows the heat to build up. The heat can destroy various parts of forklifts and cause them to malfunction. It is highly recommended to regularly blow out the forklift and get rid of any dust using compressed air, to keep it functioning at its top capacity.
5. Comprehensive Maintenance
Finally, you should rely on trained equipment technicians to perform comprehensive maintenance of your electric forklift regularly. Our experts recommend that enrolling in a planned maintenance program can help in tackling issues before they arise. Scheduled maintenance of your electric forklift aids in identifying parts that need to be replaced as well as combating mechanical failures that result from the daily wear and tear
Electric Forklift Daily Inspection
Apart from checking the above aspects of electric forklifts on a regular basis, it is recommended to perform a daily inspection to ensure workplace safety. Occupational Safety and Health Administration (OSHA) has provided the following daily checklist for performing operational checks on the electric industrial trucks. The lists serve as a guide only. Each type of powered industrial truck is unique and checklists pertinent to each type of vehicle should be modified accordingly. This checklist can be used as a good reference to perform a daily inspection, and it is not a substitute for any provisions, maintenance, or training required by the law.
Operator's Daily Checklist - Electric Industrial Truck
Record of Fluid Added
| | | | | | |
| --- | --- | --- | --- | --- | --- |
| Date | | Operator | | Battery Water | |
| Truck# | | Model# | | Hydraulic Oil | |
| Department | | Serial# | | | |
| Shift | | Drive Hour Meter Reading | | Hoist Hour Meter Reading | |
SAFETY AND OPERATIONAL CHECKS (PRIOR TO EACH SHIFT)
Have a qualified mechanic correct all problems.
Motor
Off Checks
OK
Maintenance
Leaks –
Hydraulic Oil, Battery
Tires –
Condition and Pressure
Forks,
Top Clip Retaining Pin and Heel -- Condition
Load
Backrest Extension – Attached
Hydraulic
Hoses, Mast Chains, Cables & Stops – Check Visually
Finger
Guards – Attached
Overhead
Guard – Attached
Safety
Warnings – Attached (Refer to Parts Manual for Location)
Battery
– Water/Electrolyte Level and Charge
Hydraulic
Fluid Level – Dipstick
Transmission
Fluid Level – Dipstick
Operator's
Manual in Container
Capacity
Plate Attached – Information Matches Model, Serial Number and Attachments
Battery
Restraint System – Adjust and Fasten
Operator
Protection
Sitdown Truck - Seat Belt – Functioning Smoothly
Man-up Truck – Fall protection/Restraining means - Functioning
Brake
Fluid – Check level
Motor
On Checks (Unusual Noises Must Be Investigated Immediately)
Accelerator
Linkage – Functioning Smoothly
Parking
Brake – Functioning Smoothly
Service
Brake – Functioning Smoothly
Steering
Operation – Functioning Smoothly
Drive
Control – Forward/Reverse – Functioning Smoothly
Tilt
Control – Forward and Back – Functioning Smoothly
Hoist
and Lowering Control – Functioning Smoothly
Attachment
Control – Operation
Horn –
Functioning
Lights
& Alarms (where present) – Functioning
Hour
Meter – Functioning
Battery
Discharge Indicator – Functioning
Instrument
Monitors – Functioning