Electric Pallet Jack Benefits, Uses, and Best Practices
April 14, 2022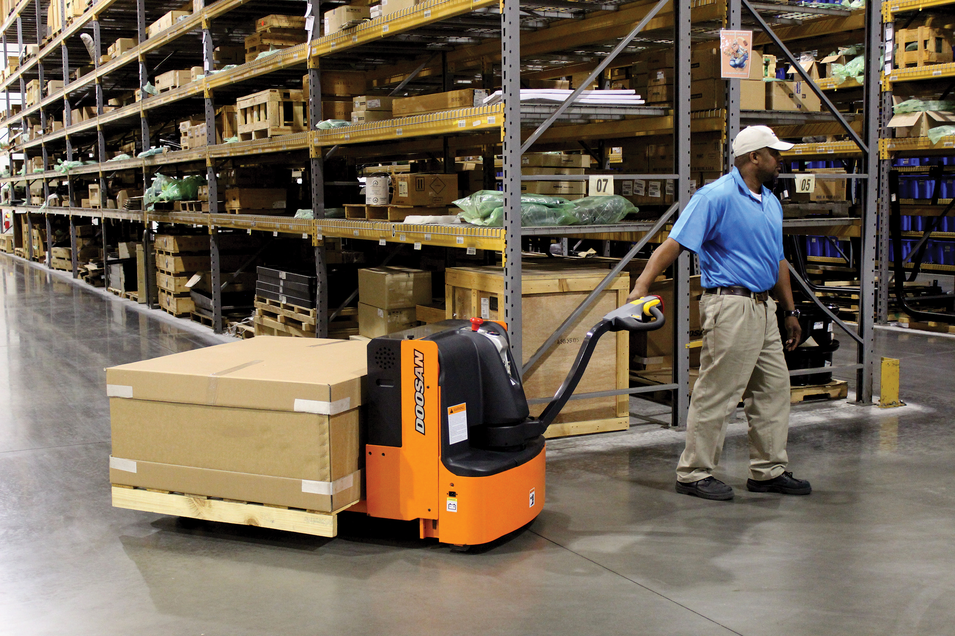 Electric Pallet Jacks are Valuable Material Handling Tools for Horizontal Transport
Electric Pallets Jacks are an essential piece of material handling equipment across various applications including warehousing, storage, and manufacturing. These simple yet sturdy machines are excellent for moving palletised loads through short distances. Pallet jacks, also known as pallet trucks, or hand trucks are used to lift the loads just enough to clear the floor and move them around a warehouse or manufacturing area. They are the most basic form of forklifts and can help you maximize productivity by quickly and effortlessly moving thousands of pounds of loads.
Choosing between a manual pallet jack and an electric pallet jack is a crucial decision, and a difficult one. It is important to understand your needs and choose the right equipment to maximize safety and efficiency of your operations.
Electric Pallet Jack vs Manual Pallet Jack
As the name suggests, a manual pallet jack is a hand-powered equipment used to lift, move, and lower pallets within a warehouse or a retail store. Often referred to as hand pallet jack, it is a light-duty, entry-level material handling equipment which is ideal for moving small to medium size loads for short distances. Since manual pallet jacks are hand operated, they can put more physical strain on the operator and cause injuries if not operated carefully.
Electric pallet jacks are powered by rechargeable batteries, so they are better equipped to move heavier loads and offer following benefits. Electric pallet jacks use motors to lift the loads and move them so that operator do not have to do the tasks manually.
Advantages of Electric Pallet Jacks:
Less physical strain which reduces the risk of injury for operators
Increased productivity since they can move around at a higher speed and help you get more done in less time
Lift heavier loads with ease and move more material in one-go, reducing the number of trips
Easy maneuverability through congested areas and narrow aisles
Diverse options with different lifting capacities and specifications are available to meet your needs
Option to choose an electric pallet jack with a ride-on platform. Premium brands like Doosan and Linde offer models with a platform for operator to stand-on to ensure all-day comfort
Whether you plan to use manual pallet jacks or electric pallet jacks, it is important to ensure that your personnel receive proper training to guarantee their safety and that of everyone at the jobsite.
How does an Electric Pallet Jack work?
Most electric pallet jacks can be conveniently controlled through the buttons located on the handle. There is a throttle on the pallet jack's handle which can be twisted to move the jack forward. You can pull the controller in the opposite direction to move the jack in reverse/backward direction. Once you have steered the electric pallet jack to the desired location, simply slide its forks under the load that needs to be moved. You can then use fingertip buttons to raise the load off the ground and steer it to its destination. Once the pallet is in place, use your jack's control for lowering the pallet to the ground. This control is usually marked with a down arrow.
Where are Electric Pallet Jacks Used?
Electric pallet jack can be used in applications where you need to transport material horizontally but not necessarily vertically. Such applications commonly include organizing staging areas and racks, prepping loads for outbound shipping, and basic inventory management tasks. Below are some of the industries which rely on electric pallet jacks for their day-today material handling operations:
General warehousing
Beverage
Cold Storage
Food Storage
Manufacturing
Retail
Speak with one of our people to learn more about which pallet jack models could be the best fit for your application.
Types of Electric Pallet Jacks
Electric Walkie Pallet Jack
In the walkie type of pallet jack, the operator walks in front or alongside the equipment. Since the operator must keep up with the truck, the maximum speed offered by this type is lower than that of rider type pallet trucks.
Electric Rider Pallet Jack
In the electric rider type pallet jack, the operator can stand on an integrated platform rather than just walking with the equipment. These are ideal for applications where the operator needs to move loads over long distances and more frequently. Since they offer a higher maximum speed, the rider type electric pallet jacks can increase the overall productivity of your operation. That said, owing to their higher speeds, electric rider pallet trucks can cause much more damage in case of a collision. It is important for operators to be fully trained and follow safety practices.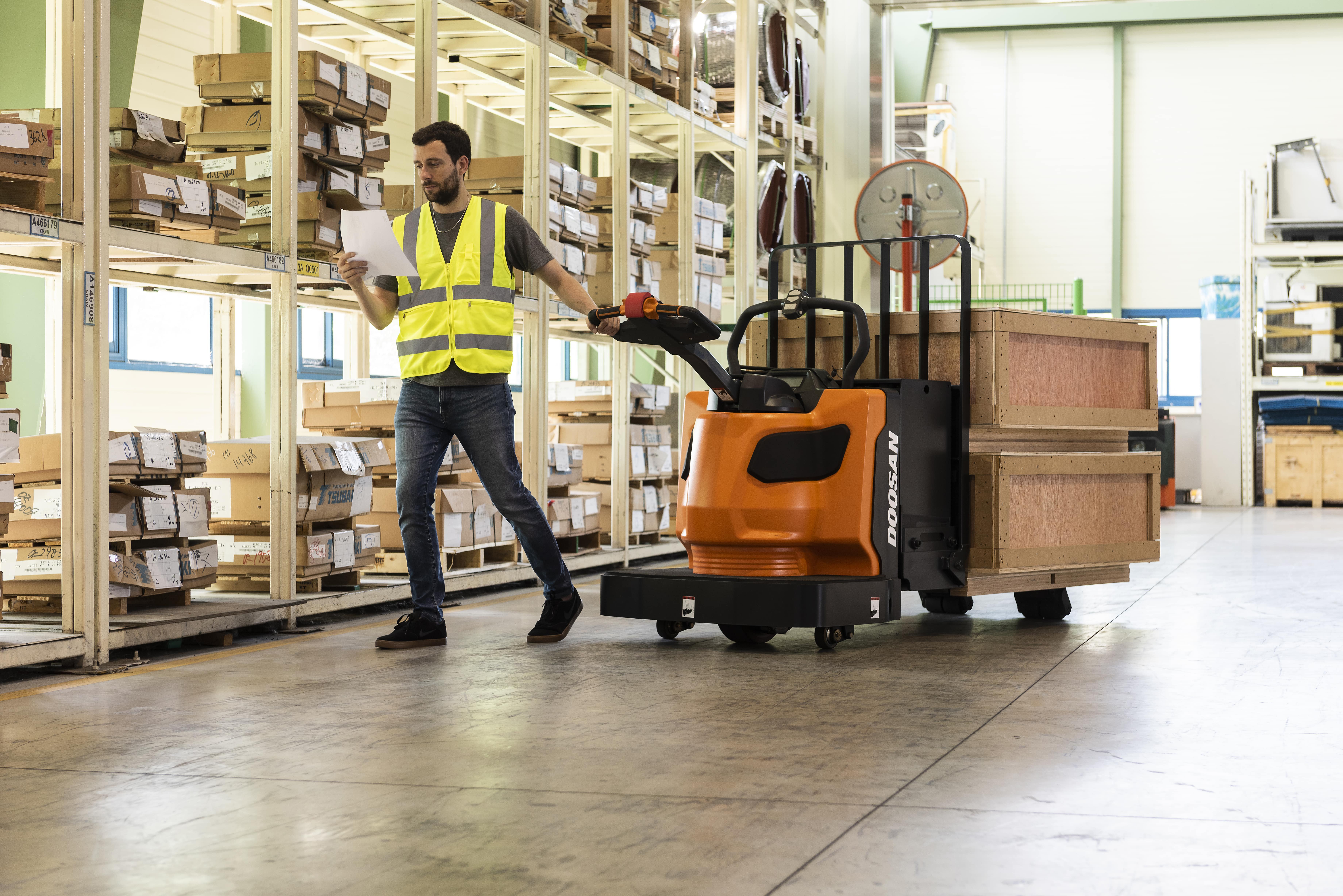 Electric Walkie Pallet Jack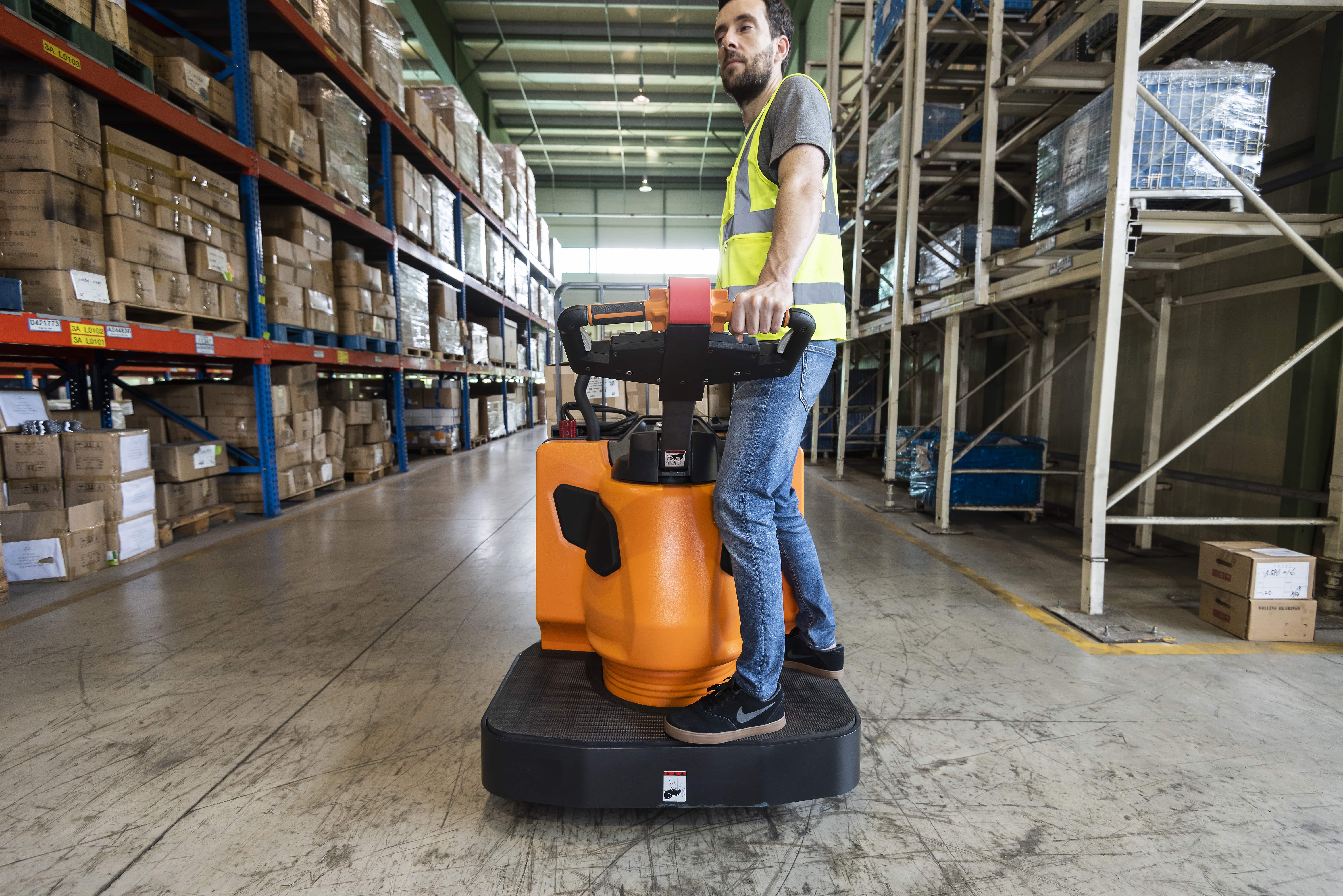 Electric Rider Pallet Jack
Selecting The Right Battery for Electric Pallet Jack
Lead-acid and lithium-ion are the two most popular types of battery technologies when it comes to electric material handling equipment. Lead-acid is one of the oldest battery technologies and is gradually being replaced by the newer lithium-ion technology. Lithium-ion batteries offer many benefits like lower maintenance costs, increased safety, higher energy efficiency and sustainability. Lead acid batteries have lower upfront cost, but it is advisable to look at the total cost of ownership (TCO) when deciding. You can look at the detailed comparison between the lithium-ion and lead-acid batteries in our Forklift Battery Sizing and Technology Guide.
Training Requirements for Electric Pallet Jacks
Just like other forklifts, a new operator needs to be trained before they can operate an electric pallet jack. Operators need to receive certification to meet the requirements outlined by OSHA's Powered Industrial Trucks Standards (1910.178 (l)). Also, this certificate needs to be renewed every 3 years.
Electric pallet jack Operating Best Practices
Below are some of the best practices to follow when operating an electric pallet jack. These pointers are NOT a replacement for the training which every operator must undergo.
Know the capacity of pallet jack before operating
Ensure that all controls are operational and working as expected. Check the forks, horn, braking, and forward/reverse control.
Examine the route to make sure there are no obstructions or hazards which could pose a safety concern
When the load is lifted, make sure it is stable and centered
Do NOT adjust the forks while moving
Keep the speed within stipulated limits and be ready to stop
Avoid sudden movements or direction changes
Stop completely before lowering the load
NO passengers are allowed on the pallet jack
Walk in the front or partly to the side of the pallet jack while moving the load for good visibility
When travelling down a slope with the load, never walk in front the pallet jack and always stay on the side
Electric pallet jacks are simple and sturdy machines which can quickly move thousands of pounds of load. They can help you maximize productivity and safety by taking away the manual work from the operation. Premium brands like Doosan, Linde, and Clark offer a wide selection of electric pallet Jacks with multiple features to ensure faster acceleration, more torque, higher efficiency, lower maintenance costs, performance review indicators, convenient storage, and control handle ergonomics. Speak with one of our equipment specialists who can help you select the right electric pallet truck for your needs.