Ground Plowing & Trenching, What You Need to Know
June 26, 2023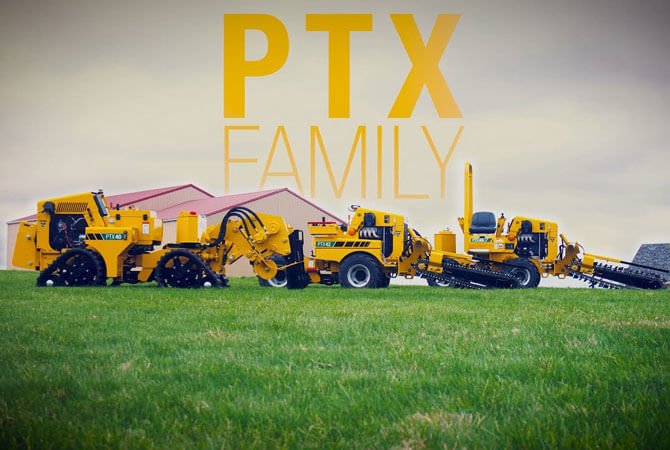 For plowing and trenching work in industries such as irrigation, landscaping, gas lines and more; The PTX line from Vermeer boasts a strong capability in a compact package to meet your project's demands. Easily install fiber optics, electrical, piping, and other services using this line up for the task. Built to tackle the harshest of weather and ground conditions, the PTX lineup allows you to work through seasons and tough job situations easily on tires or tracks to keep jobs moving forward.
---
Plowing
Where ground conditions are soft, plowing provides a great option to build underground lines and cables. Cable plowing involves vibrating blades which cut through the ground creating a narrow split. Cables or lines can be buried through this split and spooled while the plowing machine cuts through the ground.
Trenching
Trenching can provide a stronger method of laying piping and cable under hard ground. This method involves excavating ground, this digs deeper into the ground versus plowing. Due to the excavation method of trenching this requires heavier ground restoration afterwards. This method also takes longer for cable placement for example with longer machine up-time to get the job done compared to plowing.
What's Best?
Working on fiberoptic, cable, gas lines or other such underground lines the choice of plowing or trenching would depend on a number of factors. Its important to consider:
Ground/Soil conditions.
Installation depth.
Size & utility need.
Existing infrastructure.
In changing ground conditions or where installation underground is at varied levels you may need to switch between the methods to break through. With the Vermeer PTX line this is easy to do!
PTX by Vermeer
Vermeer offers three models in the PTX line-up for plowing and trenching needs. While the PTX44 is a ride-on machine, the PTX40 & PTX42 are walk-beside center articulated models. The extended pivoting panel allows control from either side providing more versatile operation and safe control. The control panel of the PTX40 & PTX42 expands to allow control from both left and right sides for easy operation around obstacles or use in tighter spaces. With small dimensions compared to the RTX line up, the largest PTX comes in at just 236x153x225cm (LxWxH) and weighs only 3,840 lbs (1,740 kg) allowing for easy navigation in tight spaces over soft ground.

Additionally, the PTX40 is the only model to feature precise remote control, offering even more flexibility and safety in operation by keeping operators a safe distance away from the active equipment.
With a maximum trenching depth of 107 centimeters (42 inches) and plowing depth of 61 centimeters (24 inches) across the PTX line can be set to creep at a set speed for the long-range jobs. The key difference between models is the speed of creep with the PTX40 able to do 2.4 mph but the PTX42 creeping at 2.7mph. This improves productivity on the jobsite allowing the machine to take care of the job. Paired with the 12-gallon fuel tank, the PTX line up can go long distances on the jobsite between re-fueling thanks to the efficient 47 horsepower Kubota engines.
| | |
| --- | --- |
| Specifications | PTX Line-up |
| Engine | Kubota WG1605 - 12 gal |
| Horsepower | 46.8 hp |
| Max Forward Speed | 4.3 kmp/h |
| Max Creep Speed | 127 fpm |
| Max Trenching Depth | 107 cm (42 in) |
| Max Plowing Depth | 61 cm (24 in) |
| Tracks or Tires | Both available (air or foam tires) |
| Attachment Options | Backhoe, reel carrier, trencher, plow, porta bore |
More than Meets the Eye
With the PTX line up, you can get more out of your equipment by using one of the many compatible attachments. These options allow you to use the PTX for more than just line trenching or plowing by attaching one of the backhoes, reel carrier, trencher, porta bore or other attachments to help you on the jobsite. This allows the PTX equipment to be further valuable beyond just plowing and trenching to get more done with just one machine.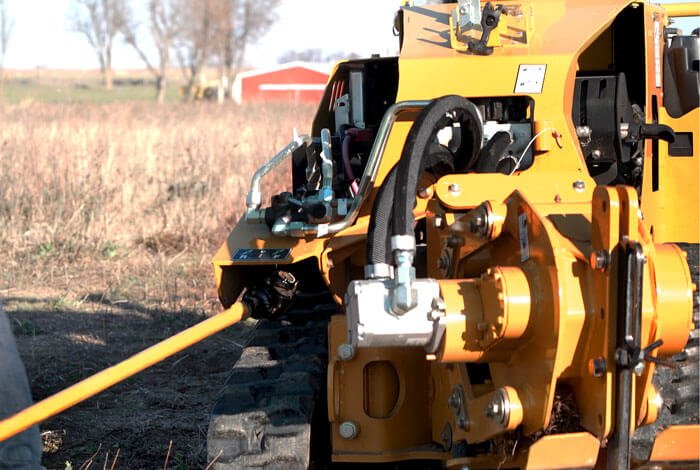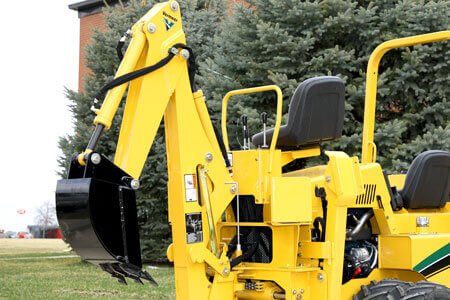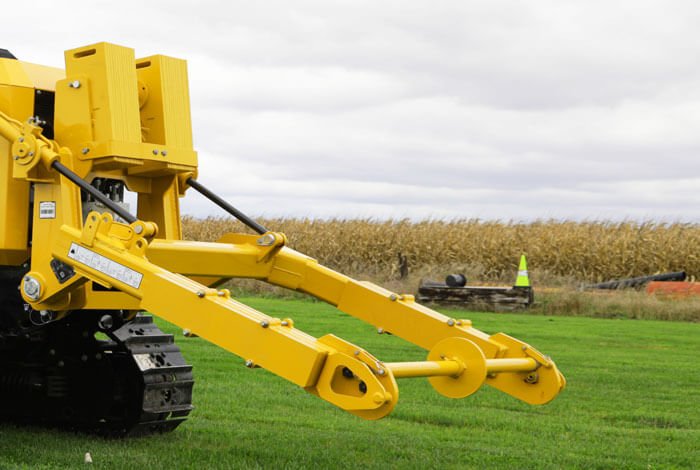 Using the available attachments for the PTX lineup this expands the capability of the equipment, some of the key attachments for the equipment line up include:
Backhoe Attachment - Terrain digging, moving materials.
Reel Carrier - Transport large cable reels, valuable for utility companies and contractors.
Porta-bore Attachment - Place cable, piping or conduit under paved or hard surfaces.
Ready to Upgrade Your Trenching & Plowing Game? Contact us About the Vermeer PTX Lineup
Contact us at at one of our branches or click the button below to contact us online and we'll get back to you with a quote or any further details regarding the PTX line-up!