The Konecranes E-VER Lands in North America
June 2, 2023

Williams Machinery is the first dealer in North America to offer Konecranes' most eco-efficient electric lift truck E-VER.
The Konecranes E-VER is the latest new addition to the Konecranes Ecolifting™ family of lift equipment. It's an award-winning powerhouse electric forklift combining the quality and productivity of conventional lift trucks with eco-friendly technology. The E-VER was developed with a focus on the customer's needs and is powered by advanced maintenance-free Li-ion batteries that are designed for heavy-duty work and can be charged in 45 minutes. It is a silent, productive workhorse with a fully electric driveline and zero direct emissions.
The Konecranes E-VER has the same lifting capacity as a diesel engine yet can have a higher lifting speed while driving. Braking energy is recovered during the operation of the E-VER and is added back to the battery as a re-charge on the fly, providing greater workday productivity. Fewer moving parts and an easy-access modular design provides less downtime and lowered costs.
Konecranes has also prioritized ergonomic design in the development of E-VER equipment. It features the latest digital technology for monitoring performance.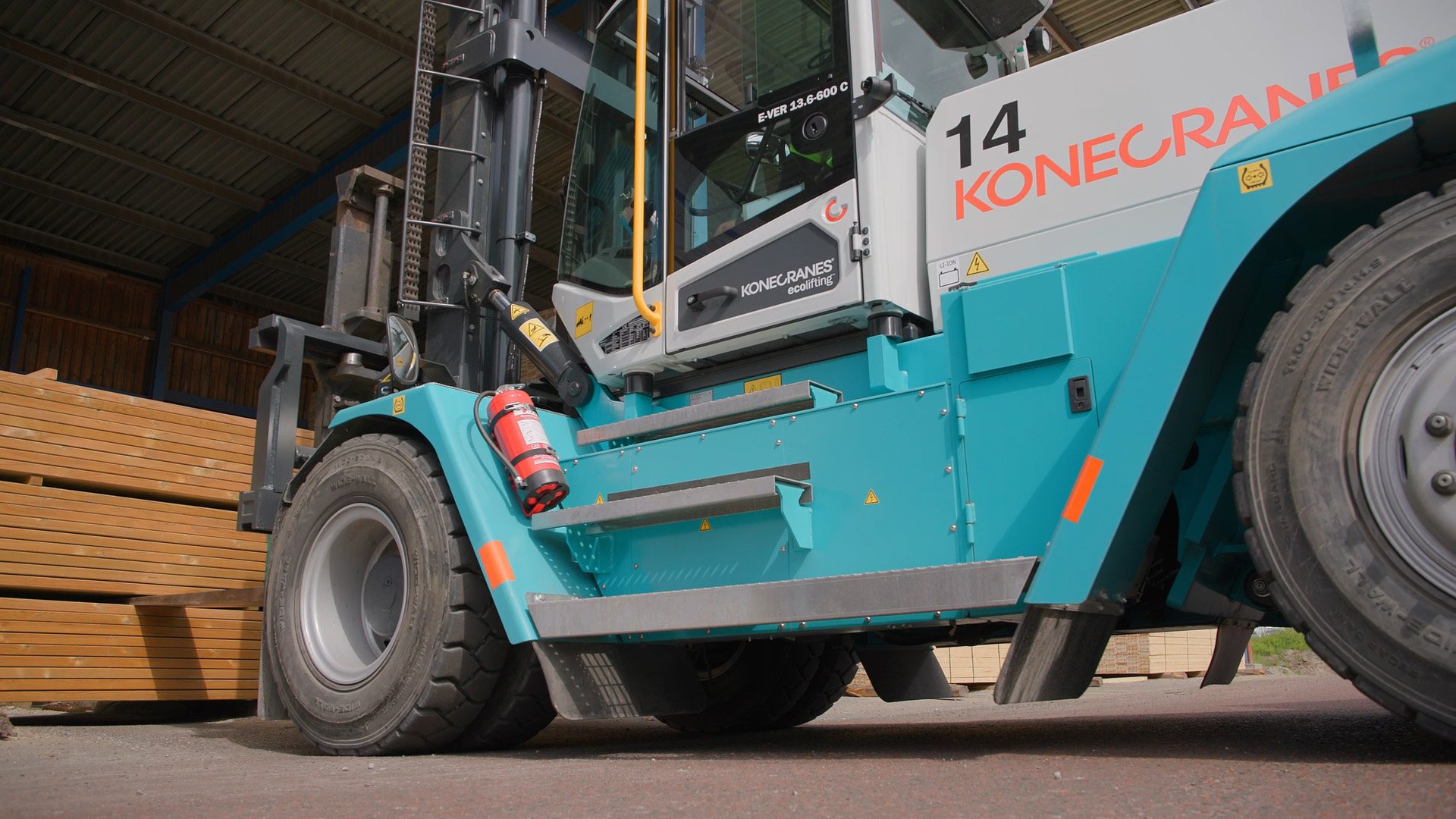 Operator comfort and safety have been meticulously addressed, resulting in user-friendly controls, improved visibility, and reduced noise levels, enhancing the overall working environment. All the features that make a driver feel safe and ready for whatever the day might bring.
E-VER stands for Electric Variable Equipment, which reflects its innovative electric-powered capabilities. Thanks to Konecranes Battery as a Service (BaaS), owners of the Konecranes E-VER will have the option to purchase this heavy forklift WITHOUT a battery and then choose their own battery set-up that best suits their needs or worksite. The battery is subscribed to a monthly fee, based on its actual usage which can be monitored in real-time at yourKONECRANES customer portal. This continuous monitoring guarantees the optimal performance of the battery.
The versatility of Konecranes' E-VER equipment makes them particularly suitable for the pulp & paper and lumber production industries.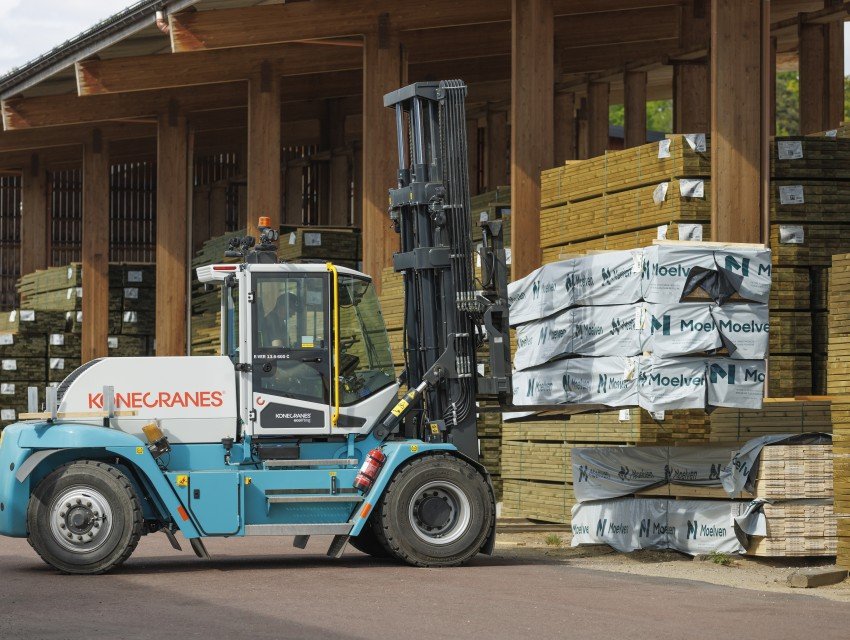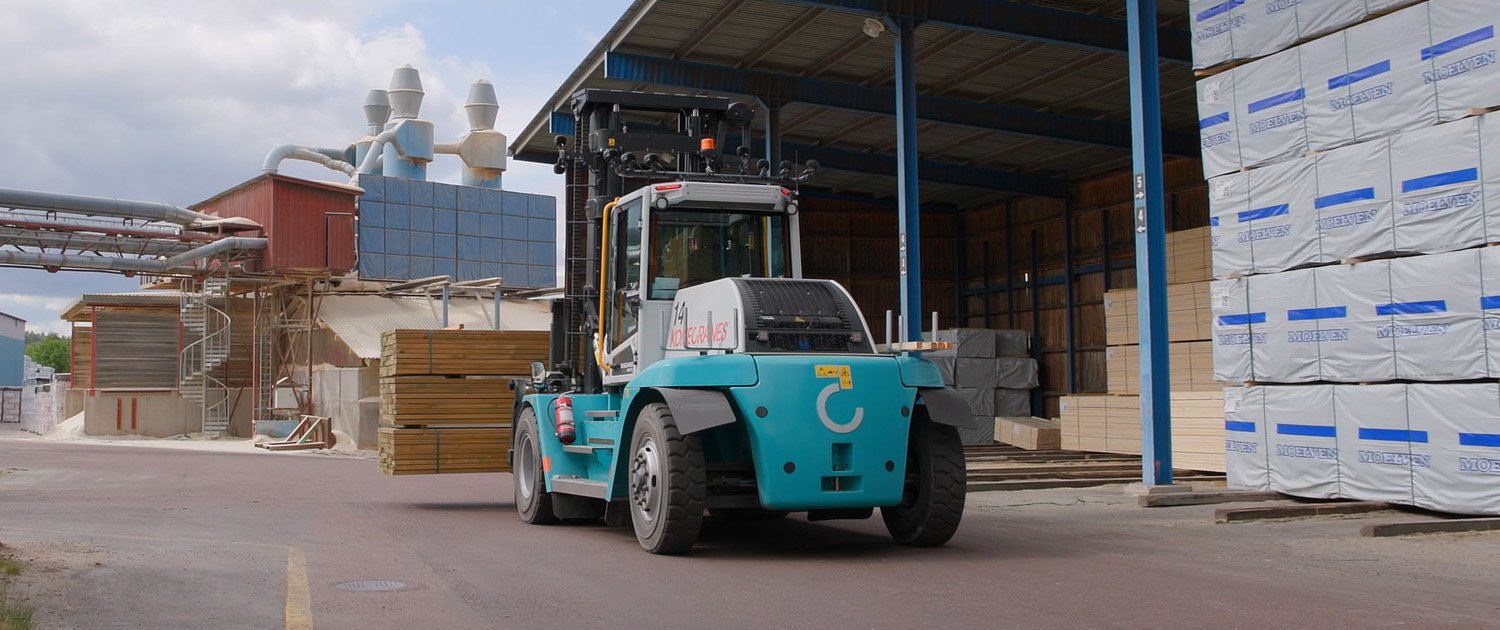 These industries have a need for precision movement of heavy, awkward material. The E-VER also provides them zero-risk of accidental product combustion from a hot diesel engine. There is no exhaust, they produce less noise and are more cost effective to run. The E-VER is also great for the manufacturing industry, ports, warehouses, and on construction sites.
Whether it is heavy lifting, precision handling, or specialized material transport, these machines offer the adaptability and efficiency required to meet the diverse needs of modern businesses. As industry continues to prioritize eco-friendly practices and operational excellence, E-VER equipment stands at the forefront, enabling businesses to achieve their goals while minimizing environmental impact and maximizing operational efficiency.
Williams Machinery is the official Konecranes Dealer in British Columbia. We are the leaders in providing eco-friendly electrically powered equipment for any industry. The E-VER from Konecranes continues in that proud history. Contact your local Williams Machinery dealership today to find out more about the E-VER forklift, and how it can improve productivity and lower costs for your business.