4 Tips to Rain-Proofing Your Forklift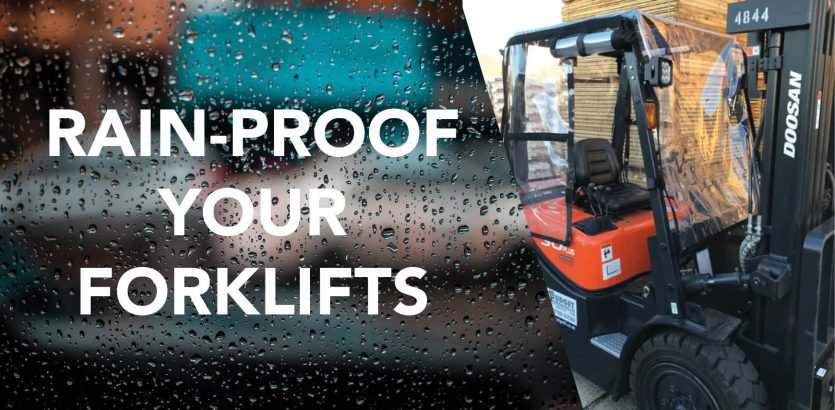 When you live on the West Coast you always have to be prepared for a rainy day.
Increment weather can cause decreased productivity and unnecessary downtime for your forklift if you're not prepared.
---
Here are 4 tips to ensure your forklifts can handle your seasonal projects:
1) Ensure Maximum Visibility
Make sure your horn and all lights are fully functional. To ensure you have adequate light while operating in low visibility conditions replace any dull light bulbs.
2) Cover your Forklift
While working in poor weather, forklift covers are an affordable option to ensure don't lose productivity.
3) Invest in a Weather-Proof Cab
Weather-proof cabs are a great investment to ensure your forklifts are protected. Designed to fit their Heart-of-the-Line forklifts, Doosan Lift has introduced a Polycarbonate Sport cab. The cab features a lightweight construction, impact, abrasion and UV resistance, can be easily installed on your existing forklifts, and is built to withstand most weather conditions.
4) Operate Safely
When increment weather hits, protecting your equipment also means ensuring equipment is operated safely. Ensure you are maintaining a clear line of sight at all times, wearing appropriate rain gear and driving slowly and carefully, for the safety of yourself and those around you when operating in the rain.
---
At Williams Machinery, we're here to relieve some of your stress this coming season. Leave your forklift maintenance to our team of factory-trained service technicians this winter.
Fill out a Service Request to book your winter maintenance with us.