Applications and Benefits of Vacuum Excavation (Plus Equipment Selection Tips)
June 21, 2022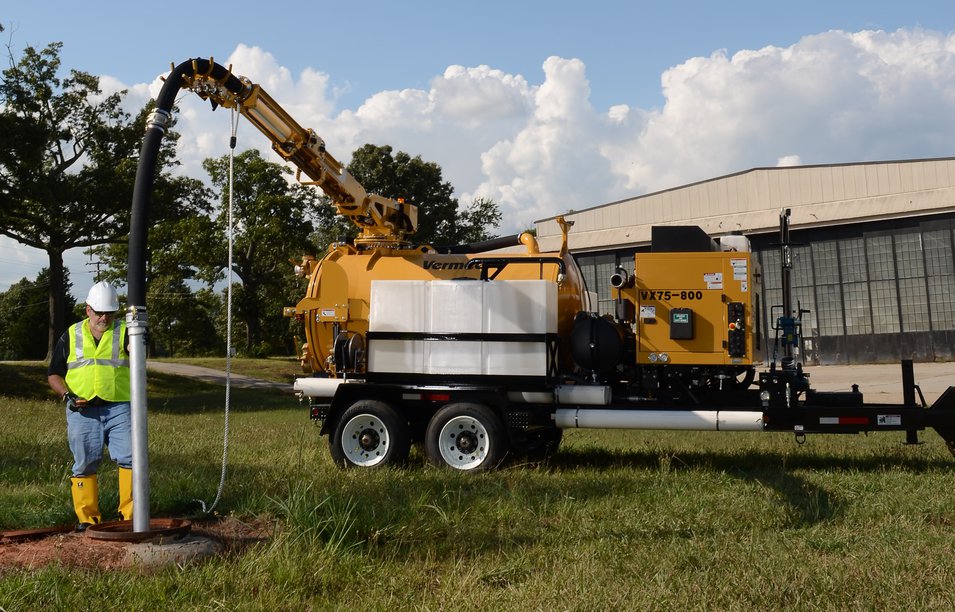 How a Vacuum Excavator Works and Its Top Applications
If you tackle excavation jobs around pre-existing utilities then you may be aware about vacuum excavation. It has emerged as a great alternative to the traditional excavation techniques and offers many benefits. Being a non-invasive method of excavation, vacuum excavation is considered to be a less damaging and safer option, especially when digging around underground cables and pipelines. It is used in a variety of applications like oil and gas, sewer utilities, telecommunications, and construction.
Learn more about this exciting technology in this article.
What is a Vacuum Excavator and How Does it Work?
Vacuum excavators come in varied sizes and shapes ranging from smaller skid and trailer mounted units to large, dedicated truck units, which are often known as Vac Trucks. The most common types of vacuum excavators use hydro excavation which utilizes high-pressure water to break the ground and loosen the soil. Once the ground turns sludgy, the on-board vacuum suction technology sucks up the waste and transfers it to a disposal tank. The other type of vacuum excavators uses air, instead of water, to loosen up the soil and debris.
With vacuum excavation, it is possible to determine the depth if the underground utilities with almost 100% precision. Before commencing the excavation, you can simply vacuum a small hole of about twelve inches to estimate the location and depth of buried lines. This practice is known as potholing and allows vacuum excavators to carry out more precise digging as compared to traditional excavators.
Vacuum excavation technology is seeing continuous innovation to improve productivity and make the waste disposal process more efficient. One such innovation is the Vermeer XR2 vacuum excavator that incorporates the traditional soft digging method of vacuum excavation with the separation technology of a reclaimer. It features a shaker deck that separates the excavated solid and liquid waste from each other. The solid material is moved by conveyor towards the rear of the machine where it is discharged and can be carried away or left on the jobsite, depending on the material. Used, slurry water is pumped into the fluid storage tanks for disposal. This allows you to stay longer on the jobsite and get more done.
Watch the video below to learn what this technology is and how it can benefit you.
Benefits of Vacuum Excavation
Minimal damage to pre-existing underground utilities
One of the main advantages that vacuum excavation has over conventional hand digging, and excavation is that it is non-invasive. Since the ground is broken by using high pressure water or air, no moving part comes in contact with the underground cables, pipes, or sewer lines. This significantly reduces the risk of damaging the pre-existing underground utilities while conducting the excavation.
With conventional excavation techniques, there is a risk of hitting an underground utility due to lack of precision or unexpected obstructions. This can sometimes lead to serious accidents like fire, especially while working in areas with petroleum and gas pipelines. There is minimal risk with vacuum excavation, making it a safer option.
Lower cost of restoration
A vacuum excavator not only removes debris but also stores it, significantly reducing the effort, time, and costs related to restoring the excavation site. On the contrary, conventional excavation often requires deployment of additional workforce and equipment, like loaders and dump trucks, to remove debris and restore the project site.
Since you are not concerned about damaging the underground facilities or surrounding structures, you can focus on quickly removing large amounts of earth. When dealing with the underground utilities or tight spaces, vacuum excavation provides a more precise outcome as compared to the conventional excavation techniques. This makes the entire process of excavation much quicker with a vacuum excavator.
Vacuum excavation is more environmentally friendly as compared to traditional excavation, thanks to its precise digging effort. It causes less impact on the surrounding environment and allows for a cleaner work site.
Top Applications of a Vacuum Excavator
As mentioned above, the most popular application of vacuum excavators is for conducting digging around cable and utility pipelines. They are also used for digging up rail lines for repair or removal. Vacuum excavation is an ideal choice for conducting excavation around the following infrastructure:
Municipalities have a variety of uses for vacuum excavators. They are being used for carrying out maintenance of the underground sewer lines. Additionally, vacuum excavators are being used to remove debris, roots, and waste from storm drains.
Potholing is the practice of identifying precise location of underground utilities before conducting excavation. This is accomplished by digging a series of very small test holes. You can use vacuum excavation for potholing even if you wish to go with the conventional excavation methods for tacking the project.
Hydro vacuum excavation is a preferred method in sub-zero temperature projects which involve frozen ground excavation. A jet of pressurized heated water is used to thaw the frozen ground, which is quickly excavated using the suction.
Debris removal is an important application of vacuum excavators at the construction sites. A vacuum excavator can quickly and effectively remove debris by sucking it into the storage tank, which can then be disposed off at an appropriate location or emptied back at the job site for backfill.
A few of the tasks that you can accomplish with a vacuum excavator in a landscaping project include rock and mulch removal, digging holes for planting and fencing. They are especially useful for carrying out removal and excavation tasks in tight spaces like backyards.
Tips for Selecting the Right Vacuum Excavator:
A vacuum excavator has many applications and adding it to your fleet might be a beneficial business decision. Our experts at Williams Machinery share some tips to help you select the right model for your application.
Identifying the ideal size of debris storage tank is crucial before selecting a vacuum excavator model. The size of the tank directly correlates to the volume of spoil you would be generating. You will need a much larger tank size when working on a utility project as compared to when working on a landscaping project.
Horsepower of a vacuum excavator decides its water pressure as well as suction strength. Getting an understanding about the kind of terrains you would be working on and the types of jobs you would be tacking with the equipment will help you decide the power level.
Air excavation may work for soft, loose soil whereas you will need a hydro excavator for working with hard, compact, rocky, or frozen soil.
Waste management is an important aspect of vacuum excavation. You will need to identify waste disposal sites and get a strong understanding of the local laws around it. If the waste disposal site is further away from the job site, you may need a bigger tank on board to reduce the number of trips.
Vacuum Excavator Maintenance
A daily inspection of your equipment can help you keep it in top shape, avoid unnecessary repairs, and increase jobsite safety. The following video by a Vermeer training specialist goes over how you can effectively perform the daily inspection of your vacuum excavator. Watch the video to learn more.
Conclusion
An exceptionally versatile piece of equipment, a vacuum excavator can help you accomplish digging and cleaning tasks in a variety of applications. It can help you tackle most types of soil, including clay, rocky soil, or even frozen earth. If you are looking for a safe, precise, and efficient method of excavating around underground utilities, then vacuum excavation might be your answer.
Have more questions about vacuum excavators and how they can benefit your business? Our equipment specialists will be more than happy to help.