Doosan Articulated Dump Trucks' All NEW Features
June 29, 2020 | Blog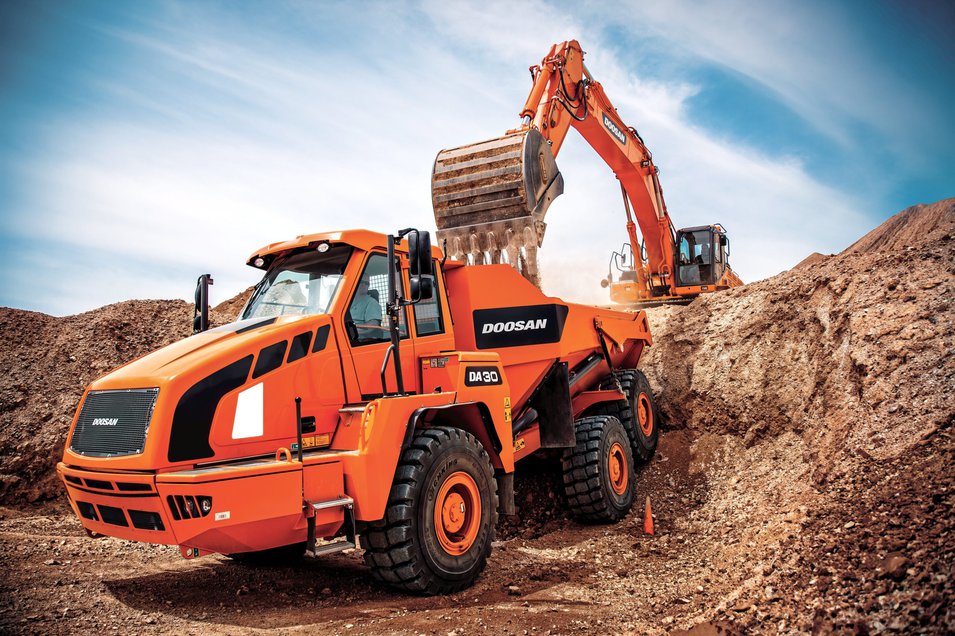 Williams Machinery is proud to offer Doosan Heavy's newest generation of articulated dump trucks (ADT) that delivers enhanced performance, reliability, and comfort.
Doosan Heavy has significantly invested in research and gathered customers' feedback to deliver their latest DA30-5 ADT and DA45-5 ADT. The front suspension of the new DA30-5 and DA45-5 has been updated to a hydro-gas, self-levelling system to improve performance and shock absorption.
New Doosan Heavy Features Include:
New Articulated Dump Truck Driveline
Common oil is used in the articulated dump truck's wheel hubs, tandem rear bogey and limited-slip differential.
The differential automatically provides the highest torque to the wheel that has the best grip.
The grease distribution system also enhances the bearing grease grooves to improve lubrication distribution and lower grease requirements by as much as 50%.
Doosan DA30-5 and DA45-5 operators can choose from four levels of retarder force, ranging from 25, 50, 75 and 100%.
Payload Measuring
Both ADTs now come standard with an active payload measuring system.
The system provides ADT operators with improved truck management and load optimization by helping to protect against extensive overloading. Operators can view each load's weight on the LCD screen in the operator cab.
An exterior traffic light-style indicator alerts excavator and wheel loader operators who are filling the ADT. They include three lights: red, yellow and green.

This allows operators to identify how big the payload is compared to how the material is piling up in the truck.
If the green light is illuminated, the truck is within the rate of payload.
If the yellow light is illuminated, the operator is within 10% of the rate of payload.
If the red light is illuminated, the operator has overloaded the truck.
Simplified ADT Service
Doosan also adjusted key service and maintenance points on its ADTs to help operators perform required daily service checks and maintenance procedures.
The ADT power module is more easily accessible to operators, it includes a lockable battery disconnect switch and an emergency engine shutdown.
A new wait-to-disconnect light allows the truck's cooldown sequence to finish and its DEF purge to complete its cycle.
A centralized maintenance panel is now accessible behind the left front tire. Further maintenance access on the platform level provides service to the hydraulic filter, oil fill and system bleeder, transmission oil fill, brake fluid fill and test ports.
All-New Cab
Doosan redesigned its ADT cab interior to provide better ergonomics and more operator comfort, taking into consideration input from current owners and operators.
Updates to the truck's vehicle control unit include more robust hardware, a faster processor, more input channels for customized functions or further technology developments and easy-to-connect, automotive-style connectors.
The new monitor in the cab has larger gauges for easier reading. User-friendly graphics and icons can be controlled by buttons on the display panel, which now has the capability to display multiple camera views for increased visibility. Operators can toggle through the menu to access additional information such as machine status, service and settings.
The DA30-5 and DA45-5 continue to be designed with a front-mounted turning ring to provide equal weight distribution to the front axle even during maximum steer articulating. This, together with a unique free-swinging rear tandem bogie, ensures equal distribution of weight to each wheel and allows permanent 6-wheel contact and drive for equal power distribution and excellent performance on difficult terrain.
To learn more in detail of all the new features, reach out to your local William Machinery dealership at 1-888-712-4748. (Ask us about our No Payment for 90 Days program for great savings.)
Source: Equipment Journal