Key Features of the Doosan DX800LC-7 Large Excavator
August 31, 2022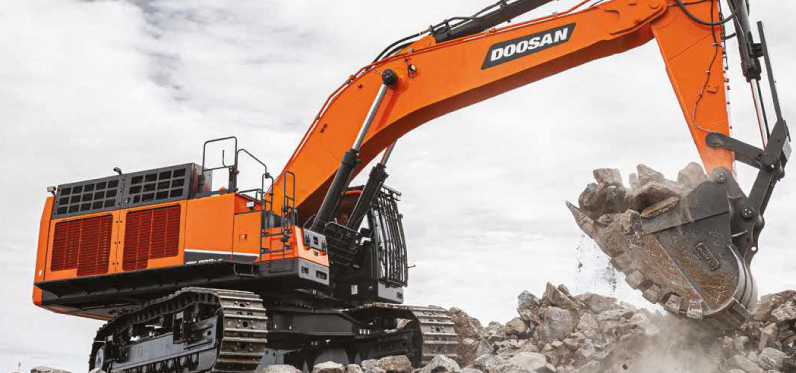 Boost your productivity with a lower cost per ton with Doosan's largest excavator
Ideal for heavy mining work and major construction applications, the Doosan DX800LC-7 is one of Doosan's largest excavators available in North America. Key aspects of this model include new cab features, greater efficiency with D-ECOPOWER, and improved performance features. And with an operating weight at 181,000 lbs. and a dig depth of 27'5", this machine exceeds expectations.
Cab Improvements
In the new larger and taller cab, operators are equipped with improved tools at their fingertips. An easy-to-operate 8-inch LCD touch screen displays machine vitals in a user-friendly interface, which is about 30% bigger than previous displays. Operators also get 360-degree visibility with the help of all-around cameras to capture the surrounding jobsite. Tech upgrades include redesigned heated seats and an easy push-button engine-start. But more impactfully, the DX800LC-7 introduces a customizable joystick that can be programed for common tasks like controlling wipers, muting audio, adjusting cameras, and more.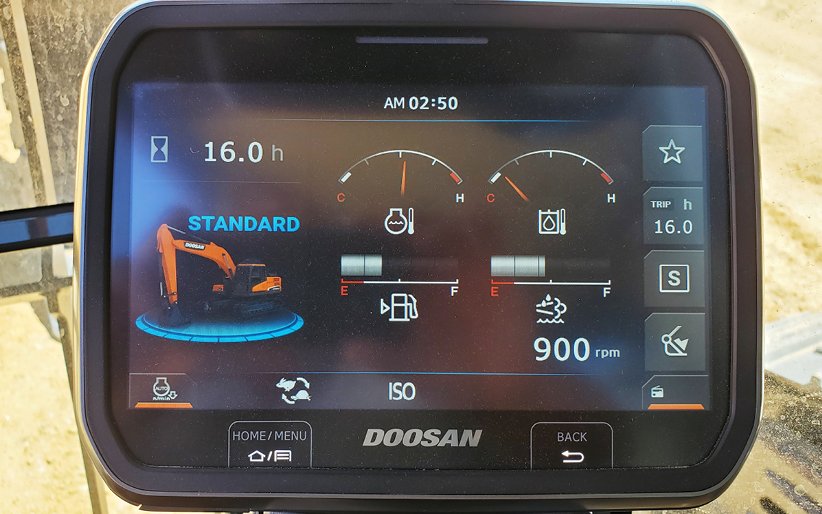 D-ECOPOWER
Save fuel and improve productivity with Doosan's proprietary technology, D-ECOPOWER. This smart hydraulic system controls oil flow to be optimized for the specific task at hand. Operators can choose between two modes: boom and swing. For tough applications (90-degree loading, such as digging over front or dumping over the side) "boom priority mode" is ideal. Whereas, for jobs in light-duty digging conditions (180-degree loading such as digging over front or dumping over rear), "swing priority mode" works best. D-ECOPOWER reduces fuel consumption while making controls more responsive.
Performance Features
Meant for heavy jobs, the DX800LC-7 has been engineered with key performance features to improve productivity on the site. Benefit from longer-lasting boom pins thanks to a double boom foot design. This helps to improve the distribution of stress evenly across two boom pins instead of one, enabling easy assembly and disassembly for transportation. Businesses can choose between three arm options – standard arm, long arm, and mass-excavation arm, which helps further match the machine to the job, and optimizes power used. For greater digging force, the shorter mass-excavation boom would be your best choice! Regardless of the chosen arm, all include additional reinforcements on key stress points and a heavy-duty front design.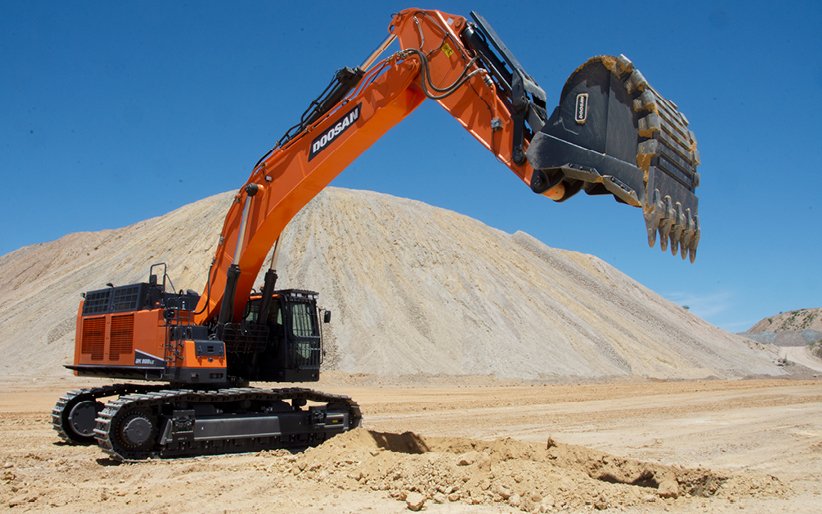 Key Doosan DX800LC-7 Excavator Specs:
Operating weight: 181,000 lb.
Power: 539 hp
Max digging depth: 27 ft.
Max digging reach: 42 ft. 9 in.
Bucket breakout: 70,107 lb.-ft.
Are you ready to expand your fleet today? Speak to one of our Doosan Heavy sales representatives to learn more!