Okanagan Blowout Sale on Key Equipment, Ready to be Delivered this Winter!
October 24, 2023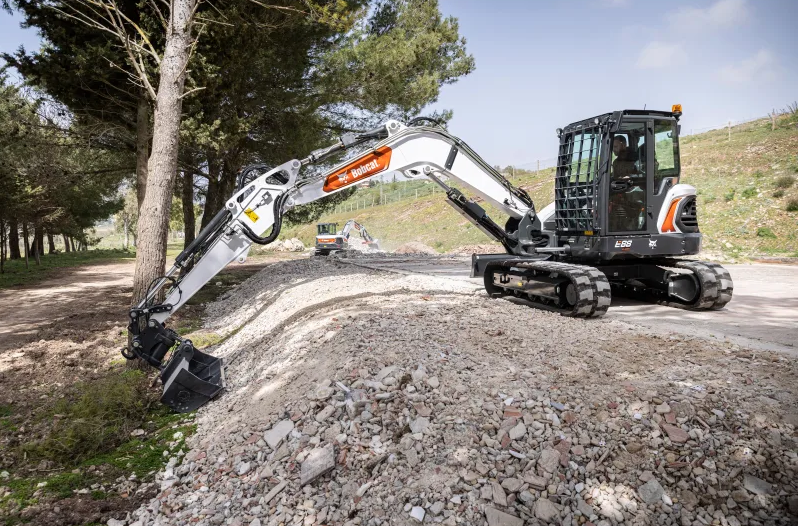 Bobcat and Ammann have been trusted brands for construction as well as landscaping, agriculture, and various other industries to get tasks done. Here we have some of the best equipment from both on sale and available this winter season, once they're gone that's it!
Equipment Sale List:
Bobcat Mini Excavators
These versatile machines combine power and precision in a small, agile package. Bobcat mini excavators are ideal for tasks like digging foundations, grading landscapes, and navigating tight spaces.
Bobcat E88: Save $14,130!
(Fitted with C62 & P68 optional extras)
Bobcat Loader Equipment
These powerful machines, available in various sizes and configurations, are trusted across industries for their ability to scoop, lift, and transport heavy loads with ease. This makes them perfect for navigating through tight spaces on construction sites, farms, or industrial facilities.
Bobcat T76 Track Loader: Save $12,000
(Fitted with C40, P17, SJC & WT optional extras)
Bobcat L28 Small Articulated Loader: Save $6,800
(Fitted with canopy, traction, power bob optional extras)
Bobcat Compact Tractors
Compact tractors are perfect for tasks such as mowing, tilling, plowing, and more. It offers the maneuverability and power you need while maintaining user-friendly controls, ensuring both efficiency and operator comfort.
Bobcat CT2035HST: Save $5,110
(Fitted with FL8 optional extra)
Bobcat CT1025HST: Save $2,670
Ammann Vibratory Plates
This reversible vibratory plate offers maneuverability and great climbing with an ability to work on 30 percent grades.
Ammann APR 59/20: Save $1,050
Bobcat Attachments
Bobcat offers an assortment of attachments with many on discount, see below the most popular attachments we have on discount right now!
Bobcat Snow Blowers: Save up to $2,240
M7050 - 36x86, M7049 - 32x74, M7048 - 32x80, M7047 - 32x74, M7045 - 32x74
Bobcat Snow Pusher PRO: Save up to $1,480
Bobcat Flail Mowers: Save $2,180
The savings don't stop there! Stump grinders, buckets, angle brooms and more are available with discounts up to $2,150. Call our team or contact us to find out more about what's on offer.
Available for order now and with savings up to $14,130!
Importantly, with all the models listed in this article we have current availability. This means you could order today, and we have the equipment ready for delivery, so you won't have to wait to get started on jobs with the best equipment available for the task. The savings don't end there, we also have other models available with discounts up to $15,000! Talk to our team for more details on these models and availability.