Save Big on Electric Forklift Machines this Winter!
October 30, 2023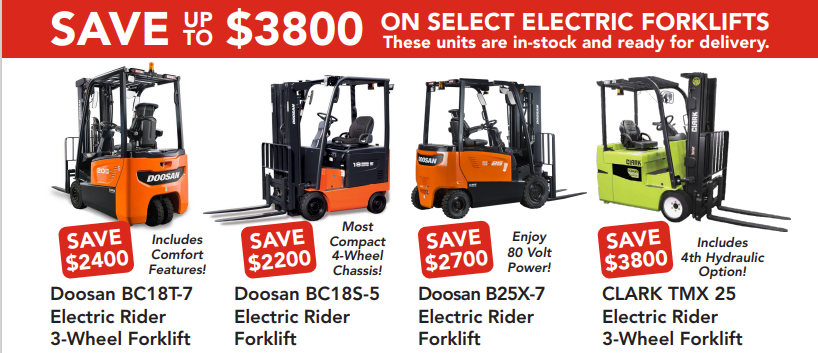 Score an electrifying deal and save big with our end of year blowout sale. You could save up to $3,800 on new electric forklift equipment! Learn more about the equipment on offer below.
Doosan BC18T-7 (Cushion Tire) Electric Rider 3-Wheel
Save $2,400 on this model which includes select additional comfort features.
Doosan BC18S-5 (Cushion Tire) Electric Rider Forklift
Save $2,200 on this model with the most compact 4-wheel chassis available!
Doosan B25X-7 (Pneumatic) Electric Rider Forklift
Save $2,700 and enjoy a 80 volt powertrain for rapid material handling power.
Clark TMX 25 Electric Rider Forklift
Our biggest savings with a discount of $3,800 with a 4th hydraulic option also available!
These great deals are only while stocks last, once they're gone that's it! contact us to find out more about each model and how Williams Machinery could be the solution to your material handling needs.