Top 5 Things to Consider When Buying a Forklift for Your Brewery
November 25, 2021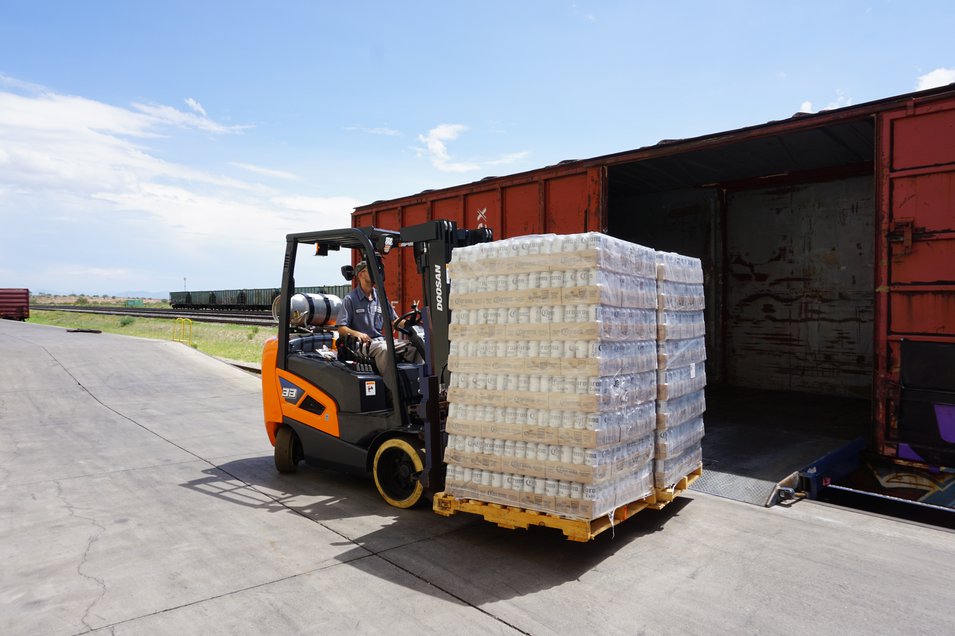 Select the right truck for your Brewery
Choosing the right forklift for your brewery is important for your business productivity and operator safety. You need to find the right balance between various parameters including price, capacity, and the equipment type to get the job done effectively. In this article, we will share essential tips from our experts to help select the right forklift for your brewery.
Below are the top 5 things you must consider before zeroing in on the truck:
1.Capacity & Reach of the Forklift for Your Brewery
As a first step, you need to estimate the weight the truck would need to move in your brewery. Whether you are moving grain totes, barrels or packaged product, your dealer's representative should be able to help you with the calculation and suggest the right forklift capacity for your needs. It may be good idea to add an extra 10-15% to the current capacity needs to be on the safer side and to account for the increasing needs as your business grows. Many breweries can get the job done with a 3000 lb to 5000 lb capacity forklift. This is enough to move most conventional pallets of finished product or raw materials.
Next, you need to consider the height that you need to reach with the forklift. Stacking finished product 2 pallets high will be possible with a lower reach than if you are looking to stack empty cans 3 pallets high. Being conservative and selecting a forklift on the higher side of your reach requirement may be helpful in meeting your needs as well as ensuring safety.
2. Space & Dimensions of Your Brewery vis-à-vis the Forklift
Taking into consideration the actual physical space of your brewery is important to purchasing the right forklift. Be sure to consider your doorway clearance, ceiling height, and aisle widths to find the best match. If you do not have enough room for the forklift that you choose, then you may damage your brewing equipment, or not be able to get the job done. Additionally, it could also a pose major safety concerns for you and your team.
If you need to work in a tight space, you should also check for the forklift's turning radius. Lower turning radius will make it more maneuverable and reduce the safety risks while operating in restricted places.
You can speak with our experts who can suggest the models which would work best for the existing aisle width of your brewery, while ensuring other requirement like capacity are met.
3. Pneumatic Tires vs Cushion Tires Forklift for Your Brewery
Pneumatic Forklift Tires
Very similar to car and truck tires, the pneumatic forklift tires offer high- traction, ground clearance and performance on rough and uneven surfaces. They are ideal for outdoor applications and perform well on both off-road and on-pavement applications. They can also be used for indoor applications. Pneumatic tires are generally larger in size and cost more than cushion tires.
Cushion Forklift Tires
Cushion forklift tires are made of smooth solid rubber and are fitted around a metal band. They offer less traction and are mainly used on indoor surfaces which are smooth and even. They are cheaper, easier to maintain and offer smaller turning radius which makes them ideal for an indoor use.
Decision
If the forklift needs to be used indoor for the most part, then you can go with the cushion tires which are lower in costs and quite maneuverable. Pneumatic tires are recommended if the forklift needs to work both indoor and outdoor at your brewery. It is advisable to speak to your dealer's representative to conclude which type of tires are most suited for your needs.
4. Electric or Internal Combustion Forklift for Your Brewery
Batteries are used to power Electric forklifts while propane is often used to power Internal Combustion forklifts. You should compare these two types of forklifts on multiple parameters like lifecycle cost, maintenance, maneuverability and see which one makes the most sense for you needs.
That said, adoption of electric forklifts is on a rise, especially in indoor spaces like warehouses and breweries. Following is brief comparison of Electric and Internal Combustion Engine (ICE) forklifts to help you make an informed decision.
Parameter
Electric
ICE
Upfront Cost
Med
Low
Maintenace
Low
Med
Lifecycle Cost
Lower since electricity as a power source is cheaper, low maintenance
Higher due to high and rising prices of gas, increased maintenance
Infrastructure
May need to build electrical charging infrastructure
No additional requirements
Indoor use
Good for indoor use on even surfaces
Can be used but not ideal because of high noise levels, emissions, and higher
travel speed
Outdoor use
Some models can be used but may not be suitable for very rugged conditions
Ideal for outdoor use and tougher conditions
Noise levels
Negligible
High
Sustainability
High; no emissions
Low; polluting
5.Right Type of Forklift for Your Brewery
Sit-down forklift
The Sit-Down Rider forklifts are generally suited for most breweries. These are the regular forklifts where the operator can stay seated while moving products. They come in all sizes and shapes, and you could pick a model which meets the space and capacity requirements for your needs. The sit-down riders are available in both electric and internal combustion type and with pneumatic and cushion tire options.
Pallet Trucks
If you do not need to stack or need an additional machine to just move things around, then a pallet truck may do the job for you. Also known as pallet jacks, pallet trucks allow you to lift and move pallets from one place to another in your brewery. These are the most basic forklifts which can come quite handy to move pallets around.
Safety First
Improper use of forklifts can be a major safety threat and can cause serious injuries to those working in the brewery. WorkSafeBC states, "Workers must be trained to CSA Standard B335-94, Industrial Lift Truck Operator Training, and have passed the test before they can operate a lift truck (forklift). Workers can be trained by their employer or a third-party provider. Every two years the driver must be re-evaluated and given additional training as needed." You can find more information here.
You must ensure that forklift operators in your brewery are properly trained and equipped to operate the forklift.
Used Forklifts for a Brewery
You can explore used forklifts to lower your upfront cost and still own this must-have piece of equipment for your brewery. There are lot of options out there so be sure to spend enough time to find the right piece of equipment. You should aim for a balance between price and condition of the used forklift to avoid expensive repair and safety issues in future.