Improve Your Business Operations with Terberg's Electric Terminal Tractors
June 22, 2021 | Blog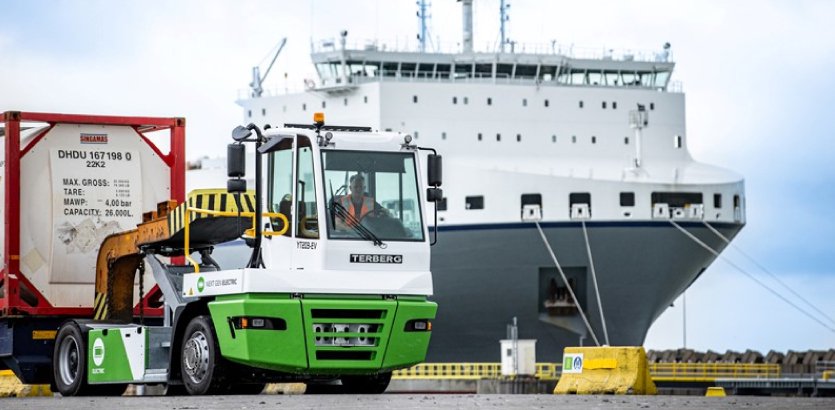 The Future is Electric: Yard Tractors Help to Increase On-Site Efficiency
Do you find yourself moving trailers around your yard with a traditional semi-truck? Keep your road trucks on the street and increase efficiency by adding a shunt truck to your fleet. Terberg is recognized for their robust and low maintenance yard tractors, specifically designed to jockey trailers in the yard. Unlike traditional road trucks, a shunt truck can improve worker safety and productivity while offering high performance and fuel savings. Better yet, electrify your fleet with a Terberg electric yard vehicle to reduce operating costs, lower maintenance requirements and operate a greener equipment fleet.

With an electric yard vehicle, you get greater levels of productivity and worker safety.
Compared to a traditional road truck, an electric shunt truck offers an ergonomic solution that reduces operator fatigue. Mitigate risk of jumper's knee or accidents exiting the cab. A shunt truck is designed with a sliding door exit at the back of the cab for drivers to leave directly onto a platform. Fuel emissions around operators is also omitted by the electric battery, resulting in greater environmental responsibility and fuel savings. Increase productivity thanks to a tighter turn radius, improved visibility, and quicker transportation.
Given that yard trucks travel short distances and have frequent starts and stops, Terberg recognized an opportunity for an electric solution. This latest model offers businesses increased battery capacity, low maintenance costs, operation in a wider temperature range, and improved ergonomics.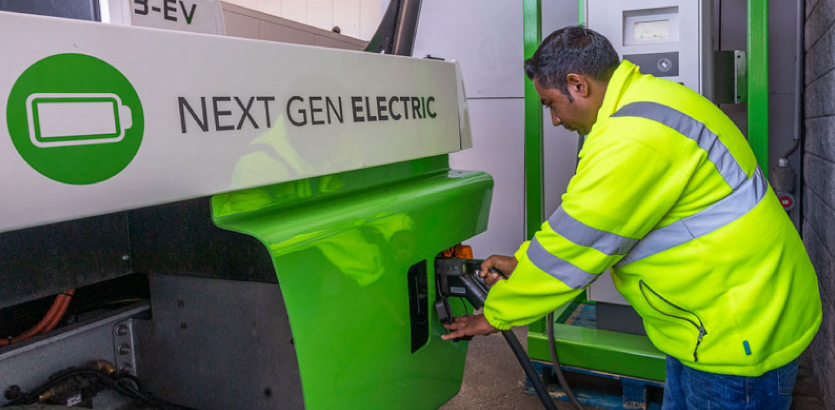 Increased Battery Capacity
The new electric drive system's performance is comparable to a diesel engine. Customers can choose from two types of battery packs: the standard 48 kWh, or a larger 73.9 kWh box. This game-changing larger battery option lets businesses keep working for longer. Up to three battery boxes can be installed on the trucks, offering up to 222 kWh of power. This amounts to about 15 hours of operation between charges. Additionally, the battery supports regenerative braking which further reduces energy consumption.
Low Maintenance Costs
Since electric vehicles have fewer moving parts than a traditional diesel engine, businesses benefit from lower maintenance costs.
Operation in a Wider Temperature Range
Terberg's new battery technology has an extended temperature range allowing businesses to keep working in a greater range of climates (-30°C to +50°C). This is possible thanks to its featured thermal management system (TMS). The YT203-EV is compatible with standard charging stations, meaning that it is functional worldwide. Its battery is certified to the ECE-R100 rev. 2 regulation, and the truck's universal charging connector is compliant with CCS2.0 automotive standards.
Improved Ergonomics
Drivers benefit from the low noise and low vibration associated with an electric shunt truck. These smoother rides result in less driver fatigue, which keep operators working happily for longer. The one-pedal drive feature optimizes operator convenience and ensures maximum energy recuperation. Inside the cabin, drivers will experience improved suspension, greater room for storage, better visibility, and ergonomically smart fingertip controls. Outside the cab, operators will find an ergonomic low entry step to reduce risk of jumper's knee or other potential accidents.

---
Summary of Advantages
Motor performance comparable to a diesel engine.
TMS controls battery temperature, allowing operations in -30°C to +50°C climates.
Wide battery capacity up to 222 kWh.
Low maintenance costs.
Zero emission at point of use.
Low noise level and vibrations.
Universal charging connected to CCS2.0 automotive standard.
Batteries and vehicle comply with CE-R100 rev.2.
One-pedal drive for max energy recuperation and decreased driver fatigue.
---
The YT203-EV Yard Truck can help increase desirable worksite productivity and safety, while cutting costs on fuel and maintenance. Speak to our sales representatives today to see if an electric yard truck can meet your jobsite needs.